Orvis Men's Dri Release Casting Tees- T Shirt
---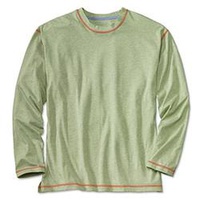 Description:
If pockets, capes, buttons, and collars aren't your thing, this is the shirt for you. The most comfortable and casual men's fishing tee shirts made. Soft, super lightweight, breezy drirelease(R) fabric dries four times faster than cotton and wicks moisture from your skin so it evaporates fast to leave you dry and cool on hot or humid days. The patented blend of poly/cotton-with no chemical treatme
---
People Who Liked This Gift Idea Also Liked
---
Oh snap! No Similar Gift Ideas Found.
---
Email Us: support@uGiftIdeas.com (Send us any question, comment or suggestion. We will respond within 24 hours)
Help: How it works?
Retailers: Send an email to sales@uGiftIdeas.com to get information about merchant accounts.
Advertise: Send an email to sales@uGiftIdeas.com to get our media packet.
Social Media: Find us on Facebook, Google +1, and Twitter.
Blog: Find more suggestions and gift guides on our blog.
About Us | Terms Of Use | Privacy Policy | Copyright Info | Affiliate Disclosure | Contact Us
© 2015 uGiftIdeas.com.